Downloads
A 30-day trial version of PANCROMA™ is available for free download. All features are fully operational except that the 'Save' utilities have been disabled. You can load full-sized Landsat, SPOT and ASTER data sets and create RGB, pan sharpened and gap-filled images. The Trial Version 'Save' utilities can be enabled by purchasing a license.

Download PANCROMA™ latest version 6.421
Download PANCROMA™ 6.421 zipped version (in case your firewall does not allow .exe files).
The Instruction Manual in PDF format is also available for free download.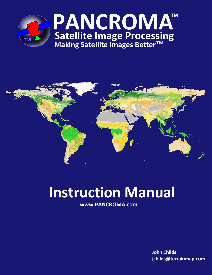 Sample Data:
PANCROMA™ did not meet your needs? Tell me how I can make it better. Please email John Childs at jchilds@terrainmap.com
The data set that accompanies the Section 55 Tutorial in the Manual and sample index file data is available upon request.
<!img src="img/pageImage.jpg" width="490" height="379" border="0" alt="">
Web site and all contents © Copyright TERRAINMAP Earth Imaging LLC 2010, All rights reserved.
www.PANCROMA.com