GeoBase is a Canadian federal, provincial and territorial government website that archives digital elevation, land cover, satellite imagery and other geospatial data. It is overseen by the Canadian Council on Geomatics (CCOG) and is the central repository of geospatial data for all of Canada. Through the GeoBase portal, users have access to this information at no cost and with relatively unrestricted use.
I have written about Canadian CDED digital elevation data and Canadian Landsat data, now archived at GeoBase in previous articles. This article focuses on the comprehensive coverage of 20m band and 10m panchromatic SPOT data for most of Canada. SPOT data is offered for sale by the SPOT Image Corporation, Chantilly, VA. GeoBase Ortho image provides ortho imagery derived from SPOT 4 and 5 satellite data. Approximately 5,000 images have been acquired by the Canadian government between 2005 and 2010.
GeoBase Ortho images are ortho rectified satellite images made from SPOT 4/5 earth observation data covering Canada's landmass south of the 81st parallel during the period 2005-2010. Each GeoBase Ortho image covers an area of approximately 3600 km2, or 60 km x 60 km of the Earth's surface. Data is archived in GeoTiff format.
The SPOT ortho images have a resolution of 10 meters for the panchromatic band and 20 meters for the multi spectral bands. The panchromatic and multi spectral bands are aligned. In addition to the ortho rectified images, the original source images are provided as well. The latter are archived in the older CAP format. The multi spectral image provides four multi spectral bands and panchromatic bands. SPOT4 sensor and platform characteristics are shown in the table below.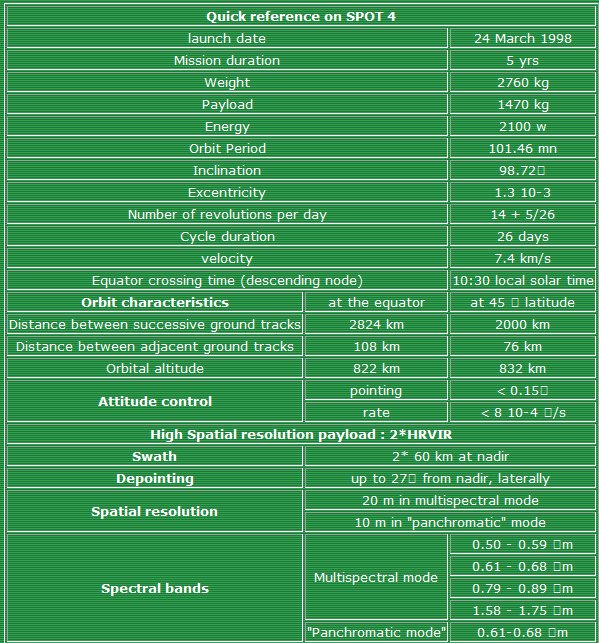 Note that there are only four multi spectral bands as compared to Landsat's 7. SPOT4 bands 1, 2, 3 and 4 approximately correspond to Landsat's bands 2, 3, 4 and 5. As a result, pseudo color images produced from the SPOT band files or the corresponding pan sharpened images will be "off" true color. The first three images show examples whereby the band data is directly inserted into an RGB color model. Images made with bands 1, 2 and 3 can also be processed to yield something more like true color. The latter three images shown to the right have been automatically processed by the satellite image processing utility PANCROMA to produce such pseudo true-color rendinges.
Accessing GeoBase SPOT data is straightforward. However there is no graphical interface at this writing, the data being archived on an ftp site. The file names correspond to the center coordinates of the image, so you must know the coordinates of your target in order to locate the SPOT image that covers it. Each SPOT folder contains four folders: two multi spectral band folders and two panchromatic folders. Each band and panchromatic file is archived in two projections: Universal Transverse Mercator and Canada Lambert Conformal Conic (CANLAMB) projection. Datum is the North American Datum 1983 Canadian Spatial Reference System (NAD83CSRS).
Download and unzip one of each of the files of the projection of your choice. After unzipping, they can be opened and viewed using any utility capable of importing GeoTiff format. PANCROMA will process these files as readily as Landsat images, except that they process much faster since they are considerably smaller in size.
SPOT files are of higher resolution than Landsat. RGB images produced from band files are 20m resolution, while pan sharpened images are 10m. These images are every bit as striking as Landsat satellite images, and generally of very high quality with respect to cloud coverage. Some pseudo color RGB and pan sharpened images are shown to the right of the page.
The USGS Earth Explorer website has announced that SPOT imagery for the United States will be available in 2010. According to the announcement, the USGS will restrict this imagery to US local, state and federal officials only. The USGS has had a long tradition of limiting access and charging fees for data that rightfully belongs to the people. They have been unable in the end to resist the trend toward unrestricted access to geospatial data. Let's hope that the trend continues with the latest SPOT data.